The contemporary jewellery exhibition "Shining on the Stage – Dutch Spirit" was officially opened on September 1, 2019 in the SPace of Tongji University College of Design and Innovation(D&I) . The opening ceremony was honored by the presence and speeches of Mr. Remco van WIJNGAARDEN, Consul-General of the Dutch Consulate-General in Shanghai, Mr. ZHANG Li, Deputy Secretary of the CPC Working Committee of Siping Road Sub-district in Yangpu District, Ms. SHEN Ying, Deputy Director of the Siping Road Sub-district Office, and Prof. SUN Jie, a National Distinguished Expert at D&I.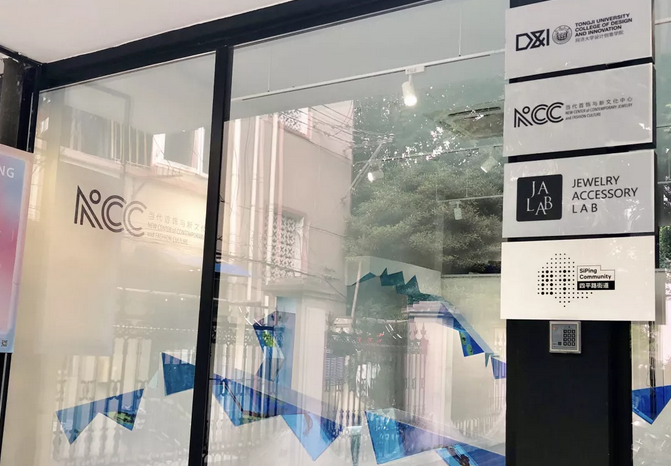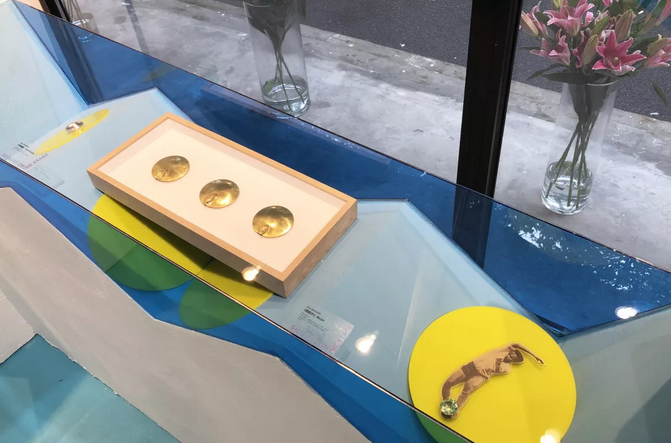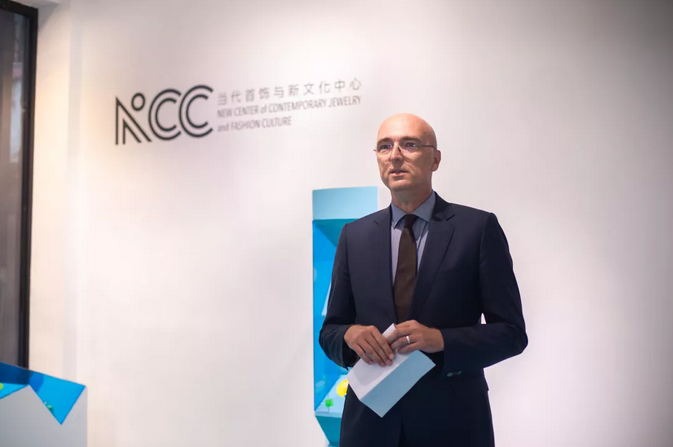 Mr. Remco van WIJNGAARDEN, Consul-General of the Dutch Consulate-General in Shanghai
In his speech, Mr. van WIJNGAARDEN recognized the exhibition as "a fine example of connecting people, in particular connecting Dutch design masters and Chinese students together. We are pleased to see that for the first time such a large scale exhibition – over 60 jewellery works by a group of celebrated Dutch design artists – is realized." He also spoke highly of the host organization, acknowledging that "there is no better or more fitting place for this than New Centre of Contemporary Jewellery and Fashion Culture (NoCC) of the prestigious Tongji University – the birthplace of future generation leaders – to present what the best Dutch jewellery design can offer." Mr. van WIJNGAARDEN expressed his gratitude to Prof. Sun Jie, Curator of this exhibition, for providing such an excellent platform to facilitate the development of top-notch designing in the two countries.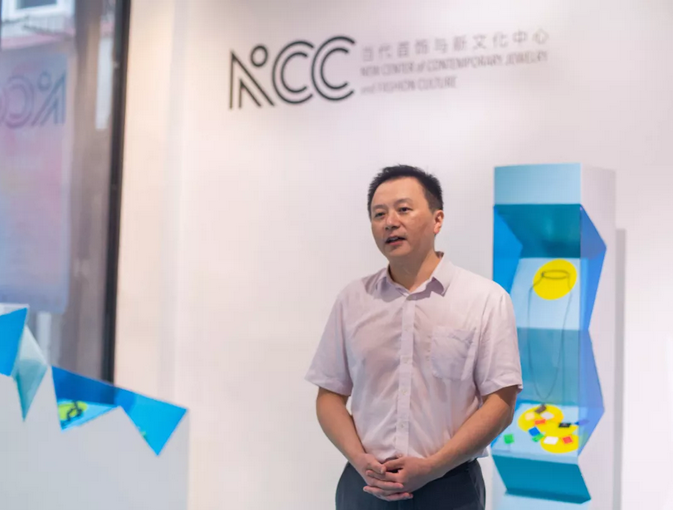 Mr. ZHANG Li, Deputy Secretary of the CPC Working Committee of Siping Road Sub-district in Yangpu District
Mr. ZHANG Li praised the long-term contributions of Tongji University to local innovative development through multi-aspect win-win cooperation with Yangpu District. In particular,D&I and Siping Road Sub-district have maintained a versatile and effective partnership in mutually benefiting innovations, resulting in successful projects such as the NICE 2035 Future Life Prototype Street. Launched in February 2018, the project has attracted wide attention from the public and the government as a model for education-community partnership in innovative design.
Mr. ZHANG believes that in the current era when global knowledge network is taking shape, the knowledge community is taking the leading role in innovation. Therefore, it is important to leverage the resources and innovation capabilities within universities in developing local residential communities and the broader society and creating high-quality lifestyle. NoCC is a pioneer in experimenting on the innovative university-community-culture partnership. Housed in the SPace, the institution has been upgraded in 2017 and 2019. The current exhibition in the space marks the first time that a group of leading Dutch contemporary jewellery designers attends such a large-scale exhibition in China, and sets an outstanding example for the exchange of premium designs between China and the Netherlands.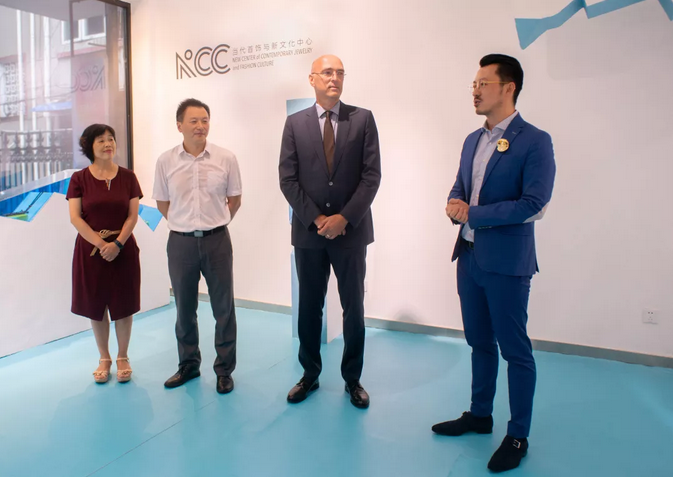 Opening Ceremony
Prof. SUN welcomed Mr. van WIJNGAARDEN and Mr. ZHANG personally and on behalf of Prof. LOU Yongqi, Dean of D&I. He appreciated their recognition of the multidimensional collaboration between D&I and Siping Road Sub-district, and introduced the strategic plan for developing new economy and local communities around Tongji University through innovation-based lifestyle transformation.
As Prof. SUN noted, NoCC, led by state-level experts, is a premium institute of culture, education and research. As the only one of its kind in China driven by the concepts of "design +" amidst the ever-popular fashion culture, this multifunctional platform, featuring international and domestic cooperation, is dedicated to the practice, research, culture, planning and management of jewellery and other fashion types, focusing on cultivating "Creative Leadership". It has been working with D&I's other educational practice platforms such as JAlab and Glass Art Laboratory.
Established in 2016, NoCC has cooperated with other advanced cultural, educational, industry and research institutes, and completed a series of important projects. Over 50 international and domestic scholars from more than 20 countries have been invited to lectures, workshops and forums organized by the Center, while over 600 artists and designers from more than 34 countries have contributed to NoCC's exhibitions and publications. These events have locally contributed to the high-quality cultural development in Siping Road Sub-district, and globally brought positive influence on the designing arena and related academic realm. In this respect, the exhibition "Shining on the Stage – Dutch Spirit" has presented an amazing example.
This exhibition has grouped acclaimed Dutch designers from different generations as far back as the 1940s. Among them are not only nationally iconic design artists who have influenced the global history of modern design, but also pioneering designers. The event is expected to further promote the cultural exchange between the two countries, and the innovative collaboration between education institutions, government agencies and communities.
The exhibition "Shining on the Stage – Dutch Spirit" realized in Shanghai demonstrates a new possibility to promote high-calibre exchange of design between China and the Netherlands. All the audience/readers are sincerely invited to enjoy this grand celebration of contemporary jewellery design at any time from 10:30 to 17:00 on weekdays during September 2 to 24, 2019.
Participating Artists/Institutions: Gijs BAKKER, Ted NOTEN, Ruudt PETERS, Chequita NAHAR, Karin van PAASSEN, Floor MOMMERSTEEG; RA Present Selection (Paul DERREZ, Ela BAUER, Julie BLYFIELD, Frieda DOERFER, Sam-Tho DUONG, Gesine HACKENBERG, Herman HERMSEN, Mirjam HILLER, Peter HOOGEBOOM, Lore LANGENDRIES, Linda Hughes, Henk de Leeuw den BOUTER, Bogki MIN, Thanh-Truc NGUYEN, Noon PASSAMA, Julian STEIMER, Tanel VEENRE), KAU Collection Selection
Advisor: Prof. LOU Yongqi
Curator: Prof. SUN Jie
Curator Team: Yan CHAN, Queenie YUAN, Tina ZHAO
Curator Assistants: Tuo QIU, Peter ZHENG
Graphic Designer: Xingye WEI
Exhibition Designer: Tzu-jung LEE
Photographer: Peter ZHENG
Interns: Zaishi LUO, Song BIAN, Yueren WANG
Venue: NoCC, SPace, 115 Tieling Road, Yangpu District, Shanghai
Organized by: College of Design and Innovation at Tongji University, Shanghai International College of Design and Innovation, New Centre of Contemporary Jewellery and Fashion Culture (NoCC), Siping Road Sub-district in Yangpu District
Supported by: Consulate General of Kingdom of the Netherlands in Shanghai