Pilot Course of Bachelor Minor Program, Shanghai International College of Design and Innovation, Tongji University Starts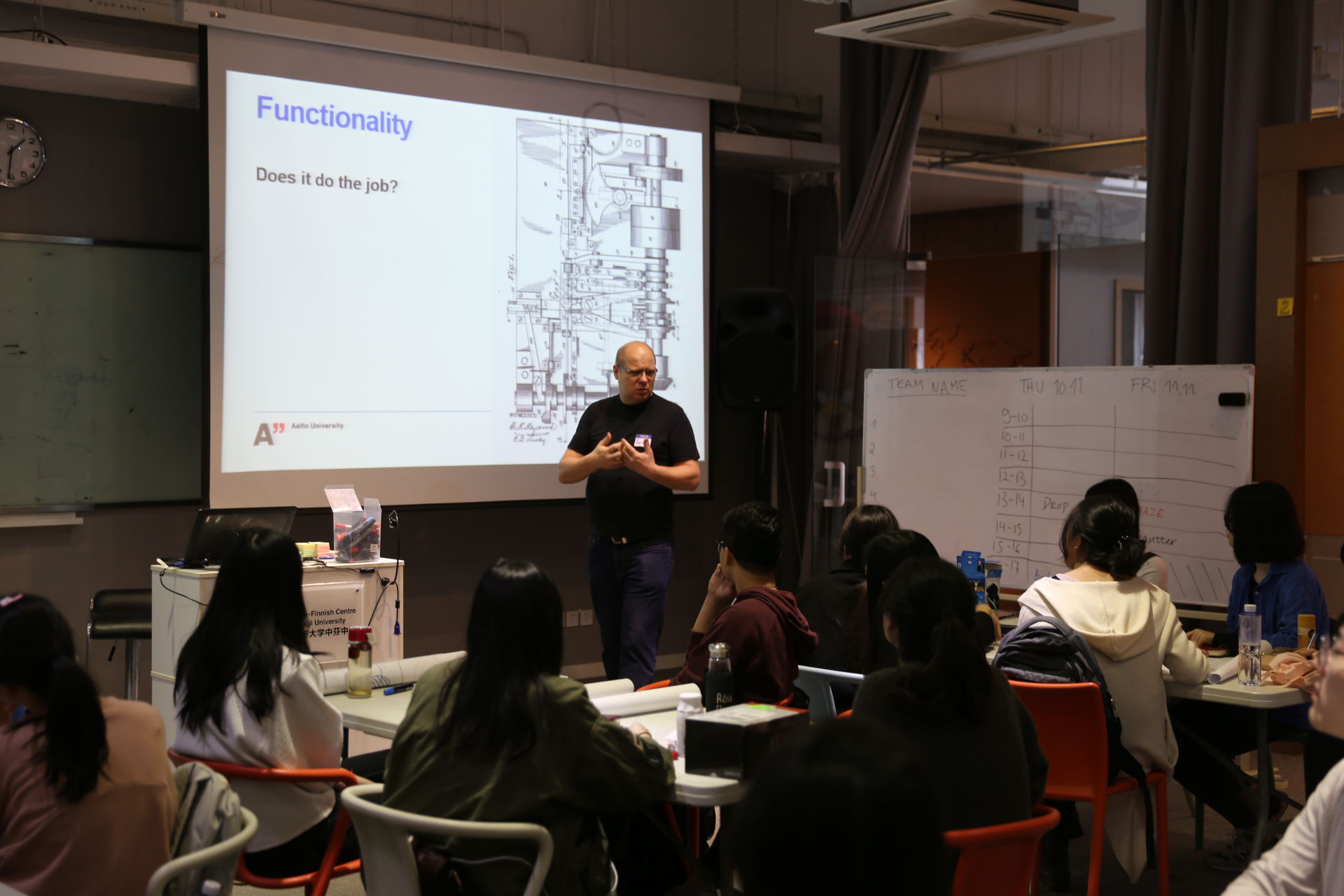 On November 5th, 24 undergraduate students participated in the one-week pilot course taught by Aaltonaut interdisciplinary teaching team from Aalto University Finland. They were from Tongji University, East China University of Science and Technology, Donghua University, Shanghai University of Engineering Science, Shanghai Institute of Technology, etc. The pilot course is a concrete step forward for the Universities Collaboration of Shanghai IV High Education Peak Disciplines, aiming to test the pedagogy and localization of the "Minor Program in Shanghai International College of Design and Innovation, Tongji University (Shanghai D&I)", and collect feedbacks from the students in order to further working on the program and curriculum design by co-teaching team from both Tongji and Aalto.
As an essential and condensed version of Product Analysis in Aaltonaut Minor Program of Aalto University, this pilot course includes two-weekend intensive teaching and one-week teamwork under the instruction of five professors from Finland. From the course, students will get to know basic knowledge related to technology, design and business of product analysis, including all kinds of product related production technology, material, service, user, supply chain, etc., as well as carry out product analysis in teams from design, business, engineering and other aspects on the assigned product. Separated into 5 teams, the students role-played as R&D groups in a large-scale domestic appliance manufacturer, conducted product analysis on the assigned 5 products, i.e. blender, handheld iron, hair clipper, toy racing car and blood-pressure monitor, and put forward a further development and innovation plan accordingly. The pilot course will hold a final presentation and closing ceremony on November 13th. -Shanghai D&I is an institution of "Chinese-Foreign Cooperation in Running Schools" approved by the Ministry of Education on February 25, 2016. It was jointly initiated and established by Tongji University and Aalto University, Finland, to offer Master degree programs and Bachelor non-degree program. Shanghai D&I plans to launch the minor program in 2017.